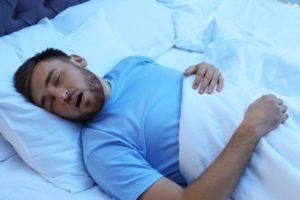 Every night, millions of patients miss out on countless hours of sleep due to sleep apnea; in fact, as many as 30% of Americans report having problems falling or staying asleep. But did you know that the chances of having sleep problems is significantly greater among those with rheumatoid arthritis (RA)? Here's more about the link between RA and sleep apnea and some tips for managing the conditions and getting your sleep schedule back on track.
How Rheumatoid Arthritis Can Impact Your Sleep
In order to understand how RA can contribute to sleep apnea, it's important to understand how each condition can affect your body. Rheumatoid arthritis is an autoimmune disease that causes widespread inflammation that leads to stiffness, swelling, and joint pain. On the other hand, obstructive sleep apnea (often referred to as OSA) is characterized by pauses in breathing during sleep that occur due to tissues in the throat blocking the flow of air.
Research shows that people with RA are more susceptible to OSA than the general population; in fact, one recent study found that the rate of sleep apnea was about 75% higher in people with RA than those without the condition. And although scientists still aren't quite sure why this connection is so strong, there are a few possible explanations:
Inflammation – RA increases the number of inflammatory substances in the body, which can affect the sleep regulation process.
Obesity – Obesity is common in both patients with sleep apnea and patients with RA, and it's also a risk factor that often contributes to the onset and severity of both conditions.
Joint & tissue deterioration – As rheumatoid arthritis progresses, it can cause bone and joint erosion that even affects the jaw; this in turn can narrow the airway as well as cause TMJ (temporomandibular joint) issues that contribute to sleep apnea.
Managing Your Conditions
If you believe you're suffering from sleep apnea, you should seek a sleep apnea diagnosis by undergoing a sleep study; this noninvasive exam will allow your provider to determine the cause of your sleep disruption so you can seek treatment. Common sleep apnea treatment options include things like a CPAP machine or oral appliances to assist with keeping the airway open at night.
Unfortunately, there is no definitive cure for rheumatoid arthritis, but it can be managed via medication and physiotherapy. In doing so, you'll also likely lessen the impact that sleep apnea has on your nightly rest. Although the conditions often come coupled, both can be well-managed with a diligent eye and proper treatment.
About the Author
Dr. Jay A. Nelson received his DMD from the University of Pennsylvania and is a Diplomate of the American Board of Dental Sleep Medicine. His practice in Wesley Chapel is thrilled to offer a wide variety of sleep apnea treatments. If you or a loved one is suffering from sleep apnea, don't hesitate to contact Dr. Nelson through his website or over the phone for additional assistance or to schedule a visit. Telephone: (813) 733-4169.