Oral Appliance Therapy – Wesley Chapel, FL
The Comfortable Alternative to CPAP Therapy
While many patients we treat believe that a CPAP system is the only therapy option for obstructive sleep apnea, the American Academy of Sleep Medicine agrees that oral appliance therapy from a qualified dentist can be an effective option for patients suffering from OSA. This is great news for those sleep apnea sufferers who are deemed CPAP-intolerant due to an inability to adjust to the loud sounds, forced air, and facial masks used during CPAP treatment. Keep reading to learn more about sleep apnea treatment using oral appliance therapy from our Wesley Chapel, FL dentist.
Why Choose Nelson Dental Sleep Medicine for Oral Appliance Therapy?
We Accept Health Insurance & Medicare
We Solely Treat
Snoring & Sleep Apnea
Sleep Dentist with 10+ Years of Experience in the Field
When to Consider an Oral Appliance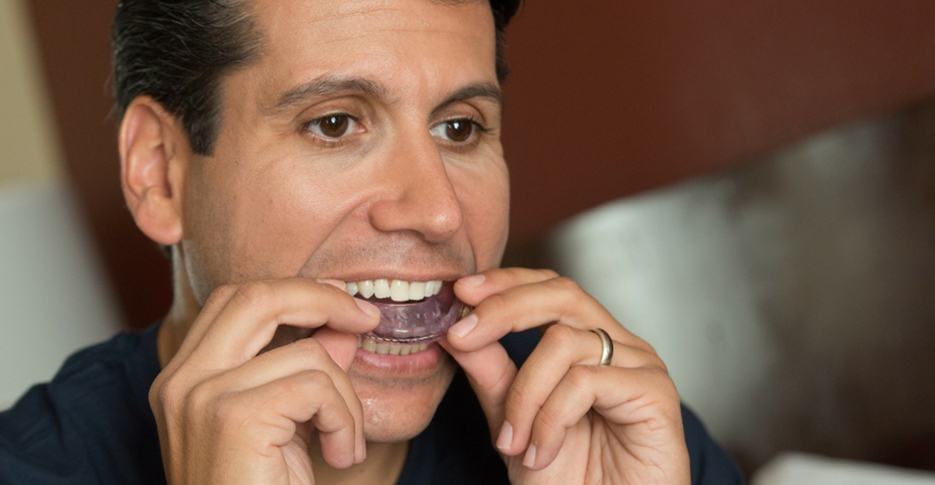 In many cases, oral appliance therapy is a viable alternative to CPAP treatment offering patients comfortable, portable, effective solutions.
As the first treatment option for those with mild or moderate sleep apnea
If patients undergo surgery with little or no relief of sleep apnea symptoms
CPAP-intolerant patients
For patients with regular, loud snoring who have not yet developed sleep apnea
Those sleep apnea sufferers who travel regularly (especially by plane) and need a portable treatment option
As part of combined CPAP and oral appliance therapy for more severe sleep apnea
An Alternative for
CPAP-Intolerant Patients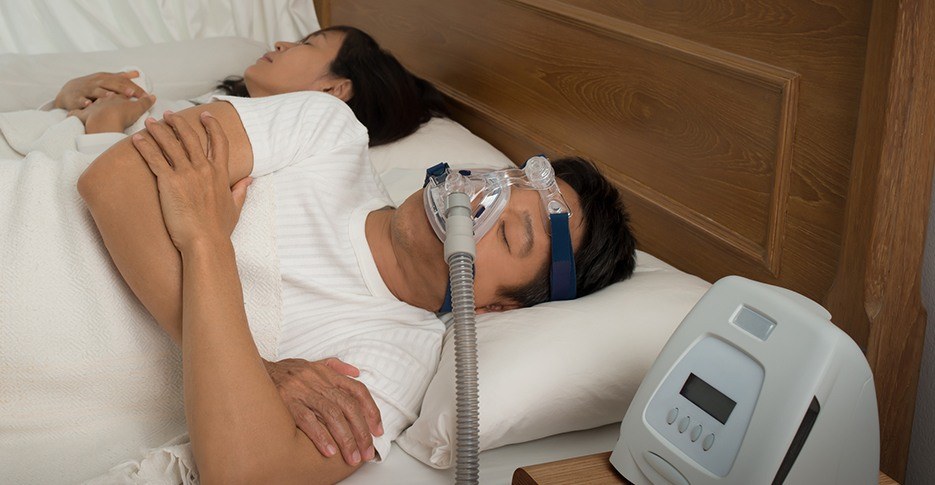 If you've ever gone through CPR training, you know that the first step is opening the airway by positioning the jaw slightly forward. Oral appliance therapy works using this same method. Each custom-crafted nightguard gently shifts the jaw's resting position forward, opening the airway and preventing incidences of sleep apnea. These custom designed oral appliances offer maximum comfort for improved patient compliance, are easy to position and remove, allow for simple cleaning, and can be conveniently stored in a compact case for travel. CPAP-intolerant patients often find oral appliance therapy to be the preferred treatment alternative.
What to Expect with Oral Appliances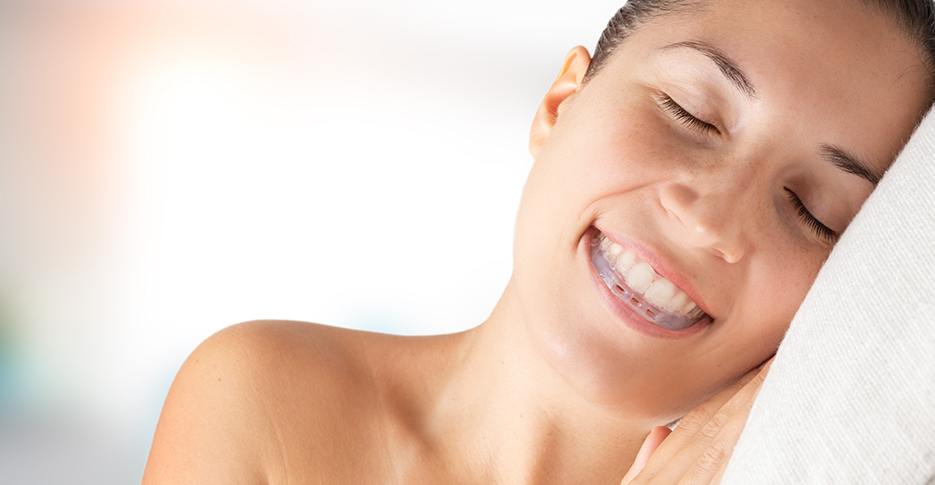 Though most sleep apnea patients report a significantly less uncomfortable and shorter adjustment period using oral appliance therapy compared with CPAP, there are still some common side-effects patients should expect when consistently wearing an oral device. Effects are usually very minor and recede within a few weeks of use. These effects include:
Jaw tension, clicking, or discomfort as the jaw adjusts to the new resting position
Sore teeth or gums
Changes in salivation either increased saliva or dry mouth
Feeling a change in your bite
AASM & AADSM Recommendations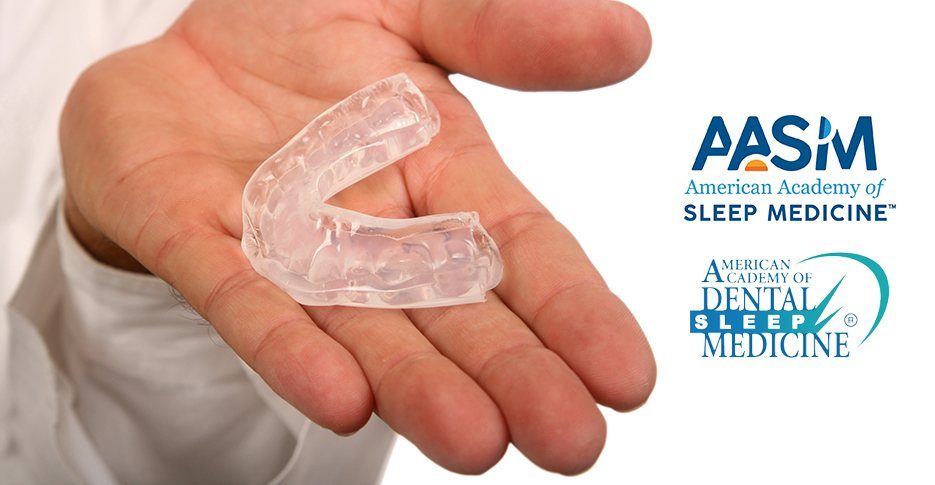 As is true in most medical specialties, there are two professional organizations that set the standards of patient diagnosis, prevention, and treatment of sleep apnea: The American Academy of Sleep medicine (AASM) and the American Academy of Dental Sleep Medicine (AADSM). Both organizations offer guidance, certification for doctors and practices, and continuing education. As the first dental office in the state of Florida to be certified by the AADSM, Nelson Dental Sleep Medicine strives to raise the bar for sleep apnea treatment for patients in our area.
According to recommendations and research from the AASM and AADSM, patients should seek treatment with oral appliance therapy in the following situations:
Patients who suffer from loud, nightly snoring effectively reduce or stop snoring when using a customized oral appliance designed by a skilled dental practitioner. Even when not diagnosed with sleep apnea, treating snoring may prevent patients from developing sleep apnea in the future and offer more restful sleep.
While non-custom oral appliances are available, it's essential that patients seek custom oral appliance treatment from a trained, qualified dental practitioner in order to obtain comfortable appliances that increase patient compliance and treatment effectiveness dramatically.
For those patients who are CPAP-intolerant, travel often, or are otherwise unable to consistently use their CPAP systems, a sleep physician should refer the patients to a qualified dentist for oral appliance therapy and partner with these dental practitioners to ensure treatment success.
Those patients who are fitted with an oral appliance should return for follow up care. A dentist ensures these patients have a comfortable, custom appliance, and offers any additional guidance and recommendations, as necessary.
Patients should return to their sleep physician for sleep testing once they receive their custom oral appliance. This allows the physicians to ensure the appliance effectively reduces symptoms of sleep apnea.
In order to ensure continued success, patients should create a plan for regular follow-up care with a dentist and sleep physician.
Dr. Jay A. Nelson and his team offer comfortable, convenient oral appliances and combined therapy for patients. If you are interested in finding out more about oral appliance therapy to restore restful, rejuvenating sleep, contact our Wesley Chapel, FL dental sleep medicine office to schedule a complimentary consultation.