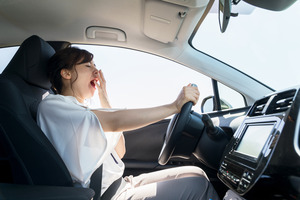 You frequently hear about the dangers of drinking and driving, but did you know that driving while sleepy could be equally hazardous? If you have a disorder like sleep apnea that makes you feel extremely tired during the day, you could be putting yourself at risk whenever you get behind the wheel. The following post explores why drowsy driving is dangerous – as well as steps you can take to ensure that you're staying safe on the road.
The Dangers of Drowsy Driving
In 2017, the National Highway Traffic Safety Administration found that drowsy driving has been the cause of at least 91,000 crashes that led to about 5,000 injuries and 800 deaths. And as alarming as those numbers are by themselves, it should be noted that they're likely underestimated since it can be difficult to say for sure that tiredness was the true cause of a crash. In light of this, many researchers estimate that around 21% of car accidents that result in death are caused by drowsy driving.
Why does drowsiness result in so many accidents? When you're tired, you might doze off for a few seconds; if this happens while you're driving, you could easily collide with something or run off the road during this time. Furthermore, being drowsy makes it harder to focus and slows down your reaction time, which hurts your ability to identify and avoid dangers on the road.
What Can You Do to Avoid Drowsy Driving?
The best way to avoid feeling tired while driving is to get plenty of sleep. The average adult needs at least 7 hours of sleep each night. Make sure you're going to bed early enough so that you can get the rest you need to operate at your best during the day.
When possible, try not to drive during the times of the day when your body tends to be at its most tired. Most people feel especially sleepy in the early afternoon as well as between midnight and 6 A.M. Plan your schedule so that you can avoid needing to drive during these specific periods.
In cases where drowsiness is caused by sleep apnea, you should talk to a sleep doctor as soon as possible. They can help you find a solution for your sleep disorder so that you can enjoy a full night of uninterrupted rest. For example, they may recommend a custom oral appliance that keeps your airway open at night, making it less likely that you'll suffer from a sleep apnea episode.
In short, driving while tired can be a dangerous mix. To stay safe, take whatever steps are necessary to make sure that you're fully awake and alert whenever you get behind the wheel.
About the Author
Dr. Jay A. Nelson is a diplomate of the American Board of Dental Sleep Medicine as well as the American Academy of Craniofacial Dental Sleep Medicine and the American Board of Sleep & Breathing. At Nelson Dental Sleep Medicine in Wesley Chapel, he offers oral appliance therapy as a way to treat sleep apnea without a noisy, bulky CPAP machine. If you think you have a sleep disorder that's making you feel excessively tired during the day, schedule a consultation with Dr. Nelson by visiting his website or calling (813) 733-4169.