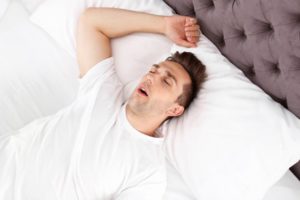 When most people think about sleep apnea, the first thing that comes to mind is the negative impact that it has on one's sleep. But if left untreated, sleep apnea can cause many other different problems, many of which you wouldn't even expect—including gum disease! Keep reading to learn more about this connection along with some tips you can employ to improve the quality of your sleep while also protecting your smile.
How Sleep Apnea Contributes to Gum Disease
To better understand how sleep apnea can contribute to gum disease, you need to know how each condition affects your body. Obstructive sleep apnea (OSA) is characterized by blockage of the airway during sleep, often caused by the soft tissues of the throat and mouth closing, which can stem from a variety of reasons. It causes patients to stop breathing periodically throughout the night, meaning their body has to wake up quite often to normalize their breathing pattern. If left untreated, sleep apnea can lead to a variety of issues aside from gum disease, including severe problems such as cardiovascular disease and diabetes.
Gum disease, like sleep apnea, is very common as well; while it's estimated that millions suffer from sleep apnea, it's also estimated that half of all adults over the age of 30 have some form of gum disease. Common symptoms include bleeding and swollen gums, but if given the chance to progress, gum disease can lead to serious infection and a plethora of other problems including total tooth loss, diabetes, cardiovascular disease and more. So, what does it have to do with sleep apnea?
OSA often causes patients to breathe through their mouths, rather than their noses—and this is where the problems begin! Mouth breathing decreases the flow of saliva inside your mouth and causes it to dry out, which in turn makes it much easier for oral bacteria to thrive. As these bacteria multiply, your risk of gum disease rapidly increases. In addition to mouth breathing, people with sleep apnea also often tend to suffer from bruxism. As these teeth become more mobile, the surrounding gum tissue can loosen and pockets can develop, which are the perfect hiding spot for bacteria.
Tips for Improving Your Sleep & Protecting Your Smile
There are many things you can do to address OSA and also maintain a healthy smile. Here are some tips to help you out:
Seek sleep apnea treatment; if diagnosed, popular treatment options include oral appliances or a CPAP machine.
Address other causes of sleep disruption such as light entering the room, warmer temperatures, dandruff, etc.
Avoid poor oral habits like smoking or using tobacco products.
Eat a well-balanced diet consisting of vitamin-rich fruits and vegetables, lean proteins, and fewer sugary items.
Practice excellent oral hygiene by brushing and flossing daily.
Visit your dentist for regular preventive care.
Knowing how sleep apnea and gum disease are linked will make it much easier to manage both conditions; however, visiting your dentist will often provide the best means of symptom relief.
About the Author
Dr. Jay A. Nelson has proudly served patients and families in the Wesley Chapel, FL area for several years. Dr. Nelson received his dental doctorate from the University of Pennsylvania and is a diplomate of the American Board of Dental Sleep Medicine. His practice is pleased to offer many services such as sleep apnea therapy. If you're concerned about how sleep apnea might be affecting your oral health, don't hesitate to contact Dr. Nelson through his practice's website or over the phone for assistance: (813) 733-4169.