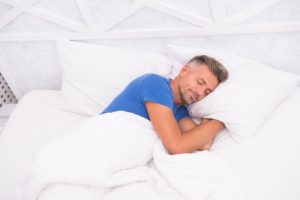 A recent recall of Philips Respironics CPAP machines affected millions of consumers. Were you among them? If so, you may hesitate to trust another type of CPAP machine. You may even be looking into alternative ways to treat your sleep apnea in Wesley Chapel. There is good news! Most patients qualify for oral appliance therapy from a sleep dentist. Let's talk about what an oral appliance is and some of the advantages it has over a CPAP machine.
What Is an Oral Sleep Appliance?
An oral appliance somewhat resembles a mouthguard that you would wear for sports. However, instead of aiming to protect your mouth from injury, an oral sleep appliance slightly repositions your jaw. It thereby helps to keep the airway open and prevents the pauses in breathing that characterize obstructive sleep apnea. Oral appliance therapy is generally prescribed for patients with mild to moderate apnea, but it has been known to help in some severe cases as well.
There are a few different types of oral appliances. When you visit your sleep dentist in Wesley Chapel for a consultation, they will make a recommendation on which one they believe is best for your unique circumstances.
Advantages of Oral Appliance Therapy
Oral appliance therapy has some noteworthy advantages over CPAP treatment, including:
No Dangerous Chemicals
The Philips Respironics machines were recalled due to chemicals that could lead to health problems. A foam in the machine, which was in place to reduce noise and vibration, could break down and be inhaled by patients. Oral appliances are completely silent, so they have no need for any noise-reducing components. Furthermore, they are made out of materials that most patients tolerate very well.
Easy Travel
It can be a hassle to take a CPAP machine with you when you travel, especially if you are heading overseas. Not only do you have to deal with airline regulations, but you may also need to bring a power adapter along. An oral appliance is more convenient to travel with. It is so small that you can easily slip it into your carry-on luggage. Plus, it does not run on electricity, so there is no need to worry about power adapters.
Easy Maintenance
To keep a CPAP machine clean, you may have to buy special products and take extra time to ensure that the hoses, tubes, and mask are all clean. An oral appliance is easier to maintain. Regularly soaking it in a cleaning solution, along with gently brushing its various parts, may be all you need to do to keep it sanitary.
Don't let a CPAP recall interrupt your sleep apnea therapy for any longer than necessary! An oral appliance might be just what you need to get the high-quality rest you deserve.
Meet the Sleep Dentist
Dr. Jay A. Nelson is a Diplomate of the American Board of Dental Sleep Medicine. He has spent more than a decade focusing on helping patients conquer sleep apnea through oral appliance therapy. To learn more about him and how he may be able to serve you, contact our office at 813-733-4169.