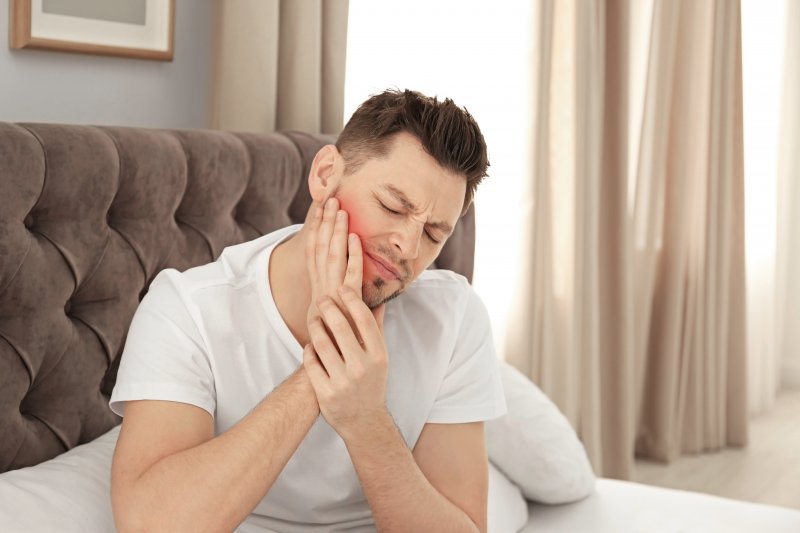 The TMJ (temporomandibular joint) is what allows your mouth to open and close so that you can speak and eat. It's one of the most complex joints in the body – and unfortunately that makes it particularly prone to stress and injury. A dysfunctional TMJ can have an effect on many different aspects of your life, and that can include your ability to get a good night's rest. Below, you can discover more about the link between TMJ and sleep apnea in Lutz and learn about how you can improve both conditions.
The Connections Between TMJ Disorders and Sleep Apnea
Roughly 2 out of every 5 people with a TMJ disorder also have trouble sleeping, with sleep apnea being a particularly common issue. This is because whenever the airway is blocked (as can happen multiple times during the night when you have sleep apnea), the body tries to open it up again by pushing the lower jaw forward. When this occurs on a regular basis, the constant motion can eventually take its toll on the TMJ. So, the longer sleep apnea goes unaddressed, the worse your TMJ disorder can become.
TMJ disorders and sleep apnea can both be connected to other issues, such as the physical position or misalignment of the jaw. Both are also linked to chronic fatigue syndrome, which causes extreme tiredness for at least six months and can cause many different health problems. In short, because the airway has a very close relationship to the jaw, it's no surprise that sleep apnea and TMJ disorders often overlap.
What Can You Do About TMJ Disorders and Sleep Apnea?
It's important to have both disorders diagnosed and treated as soon as possible. TMJ disorders can sometimes go away on their own, but sleep apnea generally will not; in either case, though, professional care can go a long way towards finding relief and having the root cause of the issue dealt with.
An oral appliance can be used to address jaw pain and sleep-disordered breathing at the same time. It can adjusts the jaw so that it's in a more forward position to keep the airway open. This puts a stop to the pauses in breathing, which means your jaw won't be continually moved forward to open the airway.
Talk to your sleep dentist in Lutz as soon as possible if you notice jaw pain, constant tiredness, and other symptoms that might point towards a TMJ disorder or sleep apnea. You'll find it much easier to enjoy life when you're not tired and in pain all the time!
About the Author
Dr. Jay A. Nelson has been practicing general dentistry since 1981. He has sought out postgraduate training in dental sleep medicine and been named a Diplomate of the American Board of Dental Sleep Medicine; in other words, he is an expert in helping sleep apnea patients enjoy a good night's rest again. If you have concerns about sleep apnea or a related TMJ disorder, you can schedule an appointment at his Wesley Chapel practice, Nelson Dentistry and Dental Sleep Medicine, by visiting his website or calling (813) 733-4169.