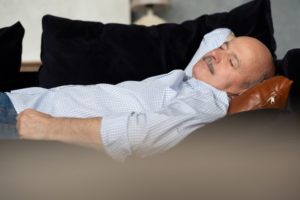 You've had a couple of rough nights lately. You have a lot on your mind, and it's kept you awake. Your long, stressful days at work haven't helped your sleep deficit either. When the weekend finally comes, you plan on taking a long nap to make up for your lack of quality rest. But by the time you wake up from your siesta, you're not feeling much better, and when Sunday night comes around, you struggle to fall asleep—which means you're starting a new week with another sleep deficit.
Getting adequate sleep can be tricky, even for someone who doesn't have a sleep disorder, and it can be tempting to take a nap during the day to make up for it. However, if you have sleep apnea, these naps can actually be harmful for your nighttime sleep and your overall health. Read on to learn more about the relationship between napping and sleep apnea.
How Daytime Sleep Can Hinder Nighttime Sleep
Many recent studies have shown that there are potential benefits to taking a nap, including increasing your ability to focus and perform work better. However, it's important to keep in mind that in most cases these naps are short and often don't occur every single day.
When you aren't getting the right quantity of sleep, you can feel like you have what is called "sleep debt." However, sleep debt can't be "made up" later on. You shouldn't try to compensate for the time you've lost by sleeping during the day on a regular basis. Instead, you should focus on improving your nighttime sleep with a sleep dentist in Lutz.
How Sleep Apnea Impacts Your Health
When you have sleep apnea, even a quick nap can throw off your rhythm and make nighttime sleep more elusive. But more importantly, this disorder raises your risk of several dangerous situations. Not only does a lack of quality sleep affect your response time and alertness, but sleep apnea has also been shown to increase your blood pressure. As a result, your chances of developing heart disease or experiencing a heart attack or stroke go up significantly.
How to Take a Nap if You Have Sleep Apnea
If you must take a nap during the day because you work at night or some other circumstance, you need to make sure you have your oral appliance or CPAP machine with you. No matter how long or short your nap may be, if you don't use your sleep apnea treatment, you likely won't wake up feeling rested and refreshed. Plus, you can experience all the same negative side effects of apnea episodes.
Ultimately, although a short nap now and then should have a minimum impact on your health, regularly napping without your sleep apnea treatment can further disrupt your ability to achieve the quality and quantity of rest your mind and body need to function. Hold off on that nap and set yourself up for success for the upcoming week by focusing on your nighttime sleep.
About the Author
With more than 40 years of clinical experience, Dr. Jay Nelson is proud to be a Diplomate of the American Board of Dental Sleep Medicine, the American Sleep and Breathing Academy, and the American Board of Craniofacial Dental Sleep Medicine. He is also a Fellow with the Academy of General Dentistry. In other words, he is uniquely qualified to treat sleep apnea! If you struggle with nighttime sleep or untreated sleep apnea, you can schedule an appointment by contacting Nelson Dentistry & Sleep Medicine through the website or by calling 813-733-4169.