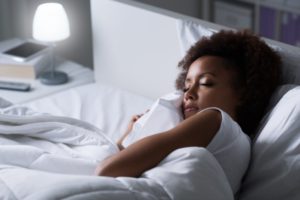 If you've done any research on ways you can enjoy a better night's sleep, you've probably seen or heard about weighted blankets. Originally used to calm those with conditions like ADHD, anxiety, or ASD, evidence shows that weighted blankets can help almost anyone achieve better quality of sleep. In particular, weighted blankets can benefit those affected by sleep apnea in Lutz. So how do they work? How can they help your sleep apnea? Read on to learn the answers.
The Magic of Weighted Blankets
Those who use weighted blankets describe them as being enveloped in a warm, secure hug by someone you love. They apply gentle pressure evenly throughout the entire body, which is known as "deep pressure stimulation." This actually lowers the arousal of the nervous system, which is often overactive if you have anxiety. Weighted blankets also increase the feeling of relaxation and calmness while lowering the heart rate, leading to better sleep overall.
How Can Weighted Blankets Help Sleep Apnea?
Weighted blankets work by using deep pressure stimulation to change hormones in the body and promote better sleep. Here are some of the benefits of using a weighted blanket that could contribute to better sleep apnea symptoms:
Stimulate Oxytocin
Also known as the "feel good" hormone, oxytocin is usually generated from the feeling of closeness as well as a deep sense of calm. Just like getting a big hug, your oxytocin levels heighten when using a weighted blanket, which increases sleep especially during the REM cycle. Studies show that higher levels of oxytocin can reduce problems like waking up throughout the night for restlessness if you have sleep apnea.
Decrease Cortisol
Cortisol is a hormone that stimulates the body's stress response, and high levels of it can make it difficult to get shuteye. Thankfully, weighted blankets decrease this hormone, lowering your stress and anxiety for a better chance at restful sleep.
Increased Serotonin
Serotonin is a hormone that promotes relaxation in the day and night. However, it also stabilizes your mood and sleep cycle. Studies show that deep pressure stimulation increases levels of serotonin, leading to better rest. On the flip side, serotonin can actually lead to higher risks of depression, anxiety, and disrupted sleep.
Of course, there is no substitute for effective sleep apnea therapy. However, using a weighted blanket in Lutz could be exactly what you need to achieve the great night's sleep you deserve.
Meet the Dentist
Dr. Jay A. Nelson is a dentist with decades of experience who sought out extensive postgraduate training in dental sleep medicine, allowing him to help patients breathe and sleep better. He is a Diplomate of the American Board of Dental Sleep Medicine (ABDSM), the American Sleep and Breathing Academy (ASBA), and American Board of Craniofacial Dental Sleep Medicine (ABCDSM), where he stays up to date on the latest techniques for sleep apnea therapy. If you have any questions, he can be reached through his website or by phone at (813) 949-0424.