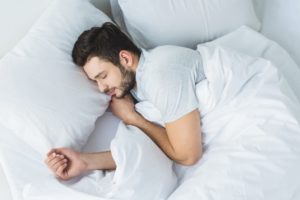 If you have sleep apnea in Lutz, you may be all too familiar with going to bed only to wake up feeling groggy and unrested. What's worse is that this common sleep condition often goes untreated because its symptoms are hard to notice. There are various treatment options, but one of the more recent solutions you may have heard about is CBD oil. However, is this form of treatment effective? What really is CBD oil? Read on to learn the answers you need to start getting a better night's sleep.
But First, What is Sleep Apnea?
Sleep apnea is an incredibly common sleep disorder that affects millions of Americans. It occurs when the throat and jaw muscles relax to the point that your airway gets blocked, making it difficult to breathe. This causes you to stop and start breathing sometimes hundreds of times during the night, leading to poor quality of sleep. It is estimated that around 80% of sleep apnea cases are undiagnosed because it's tough to spot on your own.
How Do You Know if You Have Sleep Apnea?
The first step to a better night's rest is recognizing if you have sleep apnea. You and your sleep partner should be on the look out for these common warning signs:
Loud snoring
Waking up gasping for breath
Daytime sleepiness
Morning headaches
Irritability
Difficulty focusing
Waking up with a dry mouth
Fatigue
What is CBD Oil?
CBD stands for Cannabidiol, which is extracted from the cannabis plant (better known as marijuana). CBD oil is a concentrated form of this extract that has become incredibly popular in recent years. Its most common uses include easing symptoms of health problems like depression, anxiety, acne, heart disease, and it also serves as an alternative for pain relief. You can take CBD oil by swallowing it, using it as a topical, vaporizing it, or many other options.
Can CBD Oil Help You Sleep?
Recently, CBD oil in Lutz has become a common part of its users sleeping routine, which leaves those with sleep apnea wondering, "Can it help my apnea, too?" The fact is that CBD can encourage sleep and relaxation in the body in various ways, but there is not enough evidence just yet to suggest that it directly helps with sleep apnea. That's why your best bet is to visit your dentist in Lutz who specializes in sleep medicine. They will be able to provide you with personalized treatment options that are comfortable and effective.
There is simply no substitution for treatment from an expert. Contact your dentist to enjoy a better night's sleep for more restful days.
Meet the Dentist
Dr. Jay A. Nelson is a Diplomate of the American Board of Dental Sleep Medicine (ABDSM), the American Sleep and Breathing Academy (ASBA), and American Board of Craniofacial Dental Sleep Medicine (ABCDSM), which gives him special knowledge in the treatment of sleep apnea. He provides various options, including custom-made oral appliances. If you have any questions, he can be reached through his website or by phone at (813) 949-0424.