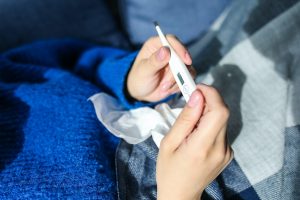 You're taking extra precautions to minimize your exposure to COVID-19. Although you're washing your hands and wearing a face mask to prevent coronavirus, if you aren't treating your sleep apnea in Lutz, you're placing your health at risk. The disorder does more than just cause you to lose a good night's rest. It also affects your immune system, which can make you more prone to infections and illnesses. Here's why it's important to treat the sleep disorder to stay healthy.
What is Sleep Apnea?
Sleep apnea is a condition that causes interruptions in breathing frequently throughout the night. It's most often results from an obstruction in the airway that's caused by your tongue or soft tissues in the back of your mouth collapsing. The pauses in breathing can make it difficult to feel well-rested in the morning, but fatigue isn't the only concern. Untreated sleep apnea can also cause several other issues, like an increased risk of cardiovascular disease or a weakened immune system.
Sleep Apnea and COVID-19 Concerns
COVID-19 has shown to occur more often in elderly patients and those who have pre-existing health conditions, like sleep apnea. Although research is still needed to fully understand the virus, doctors know patients who have sleep apnea are at a higher risk because they often have pre-existing conditions.
Untreated sleep apnea is linked to various health concerns that are also known to affect the immune system, like heart disease, diabetes, or respiratory ailments. It's also common to develop sleep deprivation without the right treatment. As a result, your body won't produce enough T-cells, which are necessary for your immune system to function correctly to fight colds and illnesses, like coronavirus.
Breathe Better and Stay Healthy
According to the Centers for Disease Control and Prevention, the fatality rate of patients who have underlying health issues is as high as 10.5% compared to .9% for healthy patients. The effects of untreated sleep apnea in Lutz doesn't need to put you at risk of coronavirus or other health concerns.
There are several solutions to treat the disorder. Besides a traditional CPAP, an oral appliance can be used to reposition your lower jaw forward. This prevents your tongue and soft tissues from blocking your throat to prevent pauses in breathing. When used correctly, patients with mild-to-moderate forms of the condition see a 95% improvement in their symptoms.
While you practice social distancing and wear personal protection to combat the spread of COVID-19, don't forget to treat any underlying health issues, like sleep apnea. With a proactive approach, you can invest in your long-term wellness.
About Dr. Jay A. Nelson
Since 1981, Dr. Jay A. Nelson has provided exceptional services to the community. He has completed postgraduate training in dental sleep medicine. He offers personalized solutions to treat sleep apnea, including oral appliances. Dr. Nelson also uses the latest safety standards to keep his office clean and sanitized during the COVID-19 pandemic. If you need treatment for your sleep apnea, rest assured, your health and safety are a top priority. Contact us today to schedule an appointment.