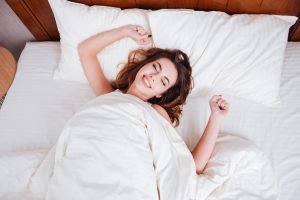 Sniffling, sneezing, and watery eyes are telltale signs of allergies. Some folks suffer from such symptoms year-round, while others only have to cope with the misery on a seasonal basis. Regardless of which camp you're in, you're probably well familiar with the struggle for a good night's rest that allergies cause. It's even worse if you also have sleep apnea in Wesley Chapel. Let's talk about the link between allergies and sleep apnea and how you may be able to find relief from your nighttime woes.
Why Allergies Worsen Sleep Apnea
"Allergic rhinitis" is the term that describes the nasal symptoms that allergens cause. When you breathe in certain substances, such as dust or pollen, rhinitis kicks in and causes the nasal passages to narrow. Because the congestion makes it difficult for you to breathe through your nose, your risk of snoring worsens, and you may also have more apneas (periods of not breathing) throughout the night.
Allergy-Proofing Your Bed for Better Rest
Taking allergy medications can go a long way toward helping you rest better at night, but it is also a good idea to reduce the number of allergens that you're exposed to. Here are some tips to help you fight dust, pollen, and other irritating substances that may collect in your bedroom and lead to nasal congestion:
Purchase allergen-resistant bedding. Many companies produce mattress covers and pillowcases that are designed to keep dust mites and other allergens away.
Keep your pet out of the bedroom. If pet dander bothers you, you may want to make a cozy bed for your furry friend that is separate from your sleeping area.
Clean your mattress. You can begin by vacuuming it. Follow-up with a thorough steam-cleaning. If your mattress is more than ten years old, it may even be time to replace it.
Wash your sheets with hot water. Hot water helps to kill bacteria and viruses and helps to fight allergens.
Keep the air dry. Some allergens tend to thrive in a warm, moist environment. A dehumidifier or air conditioner can remove some of the moisture from the air in your home.
Vacuum the floor frequently. It's a wise practice to periodically move all of your bedroom furniture so you can vacuum underneath and behind it.
If Fighting Allergies Isn't Enough
If you've done everything you can to reduce your allergy issues and you still struggle with poor quality sleep, you may need sleep apnea treatment in Wesley Chapel. With a custom-made oral appliance to gently reposition your jaw at night and allow for easier breathing, you may soon discover that your nights are much more restful.
Don't let allergies and sleep apnea make you miserable! With a few simple steps, you may be able to experience better sleep and a heightened quality of life.
About the Author
Dr. Jay Nelson has been working as a general dentist since 1981. In addition to being an expert on oral health care, he has undergone extensive training in dental sleep medicine. If you would like to find out if he can help you reclaim a better night's rest, contact our office at 813-949-0424.