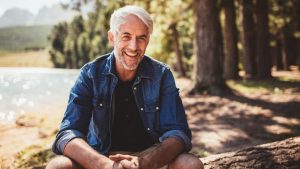 Sleepwalking is surprisingly common in children, and in most cases does not need treatment. In adults, though, the risk of danger is greater than it is during childhood. An adult who is sleepwalking should seek professional intervention. A sleep diary can help determine what the issue is — and if that is not sufficient, a sleep test may be recommended. This is when you visit a sleep clinic and rest for the evening hooked up to machines that monitor your vital signs. If it is determined that you have obstructive sleep apnea during this exam, that is the likely cause of your sleepwalking. Sleep apnea treatment in Wesley Chapel can help!
What Is Sleep Apnea?
The most common type of sleep apnea is obstructive sleep apnea (OSA), which occurs due to a blockage of the airway throughout the night. The tongue and lower jaw collapse and partially or fully constrict the proper flow of air, causing you to snore and inhibiting your quality of sleep. A person with sleep apnea may snore loudly and wake up hundreds of times throughout the night. This pattern is not only disrupting for them, but for anyone else sleeping nearby as well.
Sleep Apnea + Sleep Walking
While it is not one of the most common symptoms associated with this condition, OSA can lead to sleepwalking. This may occur when the sleep is fragmented due to the constant dozing/waking cycle that is linked to OSA.
If you or your loved one sleepwalk in addition to these other common symptoms, OSA may be the cause.
Chronic snoring

Tossing and turning at night

Nighttime teeth grinding

Fatigue and irritability

Difficulty completing daytime tasks
Don't hesitate to seek a solution for OSA. Left untreated, this condition can result in a host of issues with overall health — including premature death.
How to Find Treatment
It may surprise you to learn that your dentist can provide therapy for OSA. As an expert in your mouth and everything related to your oral structures, there is perhaps no one better-suited for this type of treatment.
A common solution for OSA is an oral appliance. This small, customized device repositions the lower jaw to prevent its collapse and help you sleep soundly — and without sleepwalking — throughout the night. Patients with more severe OSA may require combined therapy, which includes an oral appliance in addition to CPAP (continuous positive airway pressure).
No matter the solution that is right for you, the important thing is that you find a treatment as soon as you realize there is a problem. Sleepwalking is a risk for adults — but when it's caused by OSA, there is relief in sight!
Meet the Practice
Dr. Jay A. Nelson provides expert treatment for sleep apnea in Wesley Chapel. As a trusted sleep dentist, he has helped numerous patients find an effective solution for their poor sleep and sleepwalking. To learn more about sleep apnea or whether or not its treatment can help you achieve a full night's sleep once again, do not hesitate to call the office at 813-949-0424.