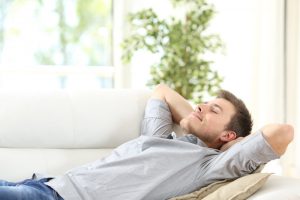 Are you one of the estimated 3 million people living with celiac disease? If so, you are at a higher risk of experiencing a sleep breathing disorder. One of the most common of these is sleep apnea — and unfortunately, cutting out gluten may not fix the problem. If a sleep test in Lutz has recently told you that you have sleep apnea and you ALSO have celiac disease, listen up. This blog post is for you.
How Celiac Affects Sleep
Celiac disease is an autoimmune disorder that is frequently linked to poor sleep and other chronic issues. Following an uptick in research over the past few years, we know more about the connection between celiac and sleep than ever — and it seems that sleep apnea is a primary symptom rather than a result of discomfort from the symptoms of celiac disease (e.g. waking up repeatedly due to an upset stomach). Research shows that removing gluten from the diet does not necessarily improve the sleep apnea symptoms, either. A professional intervention will be required instead.
Get a Sleep Test This Month
When left untreated, sleep apnea is a serious issue on its own. It can result in heart problems, respiratory issues, and even premature death.
If you have celiac disease and also suffer from the symptoms of sleep apnea, it's a good idea to get a sleep test at a lab or from your dentist. This is an examination performed either in the office or at home. You will fall asleep while hooked up to monitoring devices which record your vital signs and other important information to help your doctor reach a diagnosis.
Some of the symptoms that indicate the need for a sleep test include:
Chronic fatigue

Snoring and gasping during sleep

Frequent waking throughout the night

Waking with a dry mouth or sore throat

Teeth grinding or jaw clenching

Difficulty completing daytime tasks

Confusion
If it is determined during the sleep test that you have sleep apnea, your dentist or doctor will recommend the appropriate treatment to help you regain a restful night's sleep every night. Often, this means a removable oral appliance — a small device that holds the jaw in place to prevent its collapse and help you breathe easily throughout the night.
Sleep apnea is a serious condition, and if it's caused by celiac disease, just changing your diet may not be enough to stop the symptoms. Get in touch with a professional to discuss the need for treatment — your life just may depend on it.
Meet the Practice
Dr. Jay A. Nelson is an experienced sleep apnea dentist offering a range of treatments for patients suffering from this disease. If you believe yours is the result of celiac disease, you may require a special approach — don't hesitate to get in touch with the true expert in this case. Go ahead and contact the office by calling 813-949-0424 today.