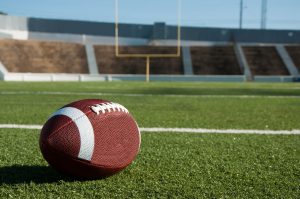 Many people think that only older people, those who struggle with their weight, and people who already have chronic breathing issues like COPD or asthma can suffer from sleep apnea. This is simply not the case. In fact, anyone can suffer from sleep apnea – even professional athletes. Many professional athletes and the National Football League are speaking out about their struggles with sleep apnea to help raise awareness about this life threatening sleep disorder, and help their fellow athletes and other potential sleep apnea sufferers learn more about when to seek treatment for their sleep disorder.

What is Sleep Apnea?
Sleep apnea is disordered sleep that occurs when patients stop breathing for ten or more seconds at a time during sleep. While almost everyone experiences some apnea events each night, patients who suffer from sleep apnea can have 100s of apnea events. Left untreated, patients who suffer from sleep apnea experience numerous adverse health effects including:
Elevated blood pressure
Excessive tiredness
Changes in mood
Difficulty concentrating
Memory loss
Actually, each year many people die due to complications from sleep apnea. Still, 80% of sleep apnea sufferers are misdiagnosed or undiagnosed.
The Minister of Defense
Reggie White, known by fans as the Minister of Defense, lost his life on December 26, 2004, at the age of 43. This skilled professional athlete seemed healthy and virile, but he had been suffering from sleep apnea for years. In fact, the night he passed away, his CPAP system was beside him unused. Unfortunately, Reggie White's story is a common one. Many patients find themselves unable to adjust to their CPAP systems, and they do not seek alternative treatments. There are other options available for patients who can't adjust to their CPAP system, those who travel frequently, and those who are not adequately helped using CPAP alone.
What the NFL & Others are Doing About Sleep Apnea
Since the untimely death of Reggie White, the NFL and professional athletes have been working hard to raise awareness about sleep apnea. Helping people understand the potential dangers of this sleep disorder and encouraging them to seek treatment will hopefully increase the number of patients who visit a sleep doctor for testing, diagnosis, and treatment.
Oral Appliance Therapies
For patients who find it difficult to consistently use their CPAP systems, oral appliance therapy may be a better option. Dr. Nelson creates comfortable, effective oral appliances. These oral appliances work by shifting the jaw forward. This places pressure on the throat and keeps the airway clear, allowing patients to breathe deeply and sleep soundly through the night.
Meet Dr. Nelson
If you're interested in learning more about oral appliance therapy for sleep apnea, contact the Lutz dental office of Jay A. Nelson, DMD, FAGD, D-ABDSM. Dr. Nelson has years of experience treating sleep apnea. He has completed advanced training to provide sleep apnea services, and he maintains memberships in a wide range of professional organizations that help him to stay at the forefront of dental sleep medicine. Call Nelson Dentistry and Dental Sleep Medicine to find out more or schedule your consultation today.