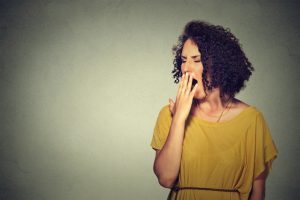 Often, insomnia and sleep apnea in Land O' Lakes are viewed as the same condition, but they are actually two separate sleep disorders. While they can both keep you up at night and lead to daytime fatigue, they are quite different. However, they often go hand-in-hand with one another. Thankfully, you can sleep soundly at night with the help of your dentist.

Sleep Apnea vs. Insomnia
Sleep apnea is a disorder that causes numerous pauses in breathing frequently throughout the night due to an obstruction in the airway. As the soft tissues of the throat collapse, it causes breathing to be interrupted. Each pause can potentially last for longer than one minute.
The National Sleep Foundation estimates at least 18 million adults in the United States suffer from this condition. While many tend to believe that lack of sleep is often the only complication, the low oxygen levels will eventually take a toll on your overall health, leading to potentially deadly complications.
On the other hand, insomnia is a condition that occurs when you have difficulty falling or staying asleep. This can be due to an underlying health condition, medications, poor sleep habits, or stress. According to the American Academy of Sleep Medicine, as much as 35% of people have brief issues with the disorder while another 10% have chronic insomnia.
Insomnia Linked to Sleep Apnea
While the two disorders are separate issues, insomnia is often a comorbid of sleep apnea. In fact, the 23rd Congress of the European Sleep Research Study recently found that as much as 70% of insomnia patients suffer from sleep apnea while as many as 60% of those with sleep apnea also have insomnia symptoms.
With lack of sleep quality not only compromising your quality of life, but your overall health as well, it is essential to seek treatment for the cause of what is keeping you up at night. To determine if an obstruction in the airway is the problem, you will need sleep testing in Land O' Lakes. Using the information gathered from the study, your dentist will create a personalized treatment plan.
Sleep Soundly Again
In the past, a CPAP machine was used to deliver a steady stream of air through a mask to keep the airways open. While this is an effective treatment, it often has a low compliance rate. As an alternative, mild to moderate cases of the disorder can now be treated with an oral appliance. This custom-fit device repositions the jaw forward to keep the airways open. In some cases, both may be recommended.
Restore Your Quality of Life
If sleep apnea or insomnia are keeping you awake at night, it is time to take control of your sleep quality with an effective treatment solution.
About Dr. Jay A. Nelson
Since 1981, Dr. Jay A. Nelson has provided exceptional services to help his patients sleep restfully. If you are suffering from a sleep disorder, contact Nelson Dentistry today to schedule a consultation to discuss your treatment options.